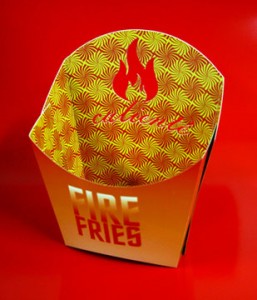 Proper presentation and packaging of food products is critical not only for practical food handling, but also for influencing customer perceptions and implementing corporate branding strategy.
Whether you're the owner of your own bakery or restaurant, or you simply want to make your home-baked treats look uniquely delicious, Laser Logik can supply you with a wide variety of expertly designed, laser-produced food and craft packaging options. LaserLogik was created with a vision to bring laser technology into the printing, advertising, and industrial markets. Our primary goal is to provide you with the highest quality, economical laser cut materials for commercial and industrial application.
So if you're in need of professional looking take-out bags,fast food packaging with a fiery flare, cake and pie boxes with a sweet-as-the-treat look, or small candy boxes designed for romantic events, Laser Logik can make it happen. LaserLogik can help you custom design a packaging container that represents the quality and uniqueness of your product and brand, as well as the proficiency of your service.