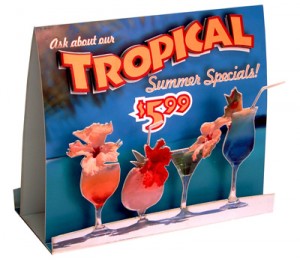 How can you speak to your customers without saying a word? Table tents and counter top displays can effectively get your message across.
Table tents are great tools for restaurants and bars as well as retail stores and shopping malls. They allow restaurants to showcase daily food and drink specials, and because they sit on the table right in front of the customer, they can't help but be noticed. By using table tents to your full advantage, you can showcase drink, appetizer or dessert specials that customers might bypass if it weren't right there to be seen. How many times have you seen a table tent with a great picture of a delicious dessert and you say to yourself, "I have to save room for that!"
Table tents are not limited to the food industry. These unobtrusive, yet eye-catching displays can be placed on countertops, tables, and clothing racks or next to the register to promote specials. They can advertise target sale items, or increase point-of-purchase sales.
If you are looking to get table tents designed, you might want to consider adding visual interest by using cut outs and irregular shapes. These effects can be easily produced when you utilize a laser paper cutting service. A beautiful example of this is seen below with this table top display that promotes summer drink specials.